ETAPE DU TOUR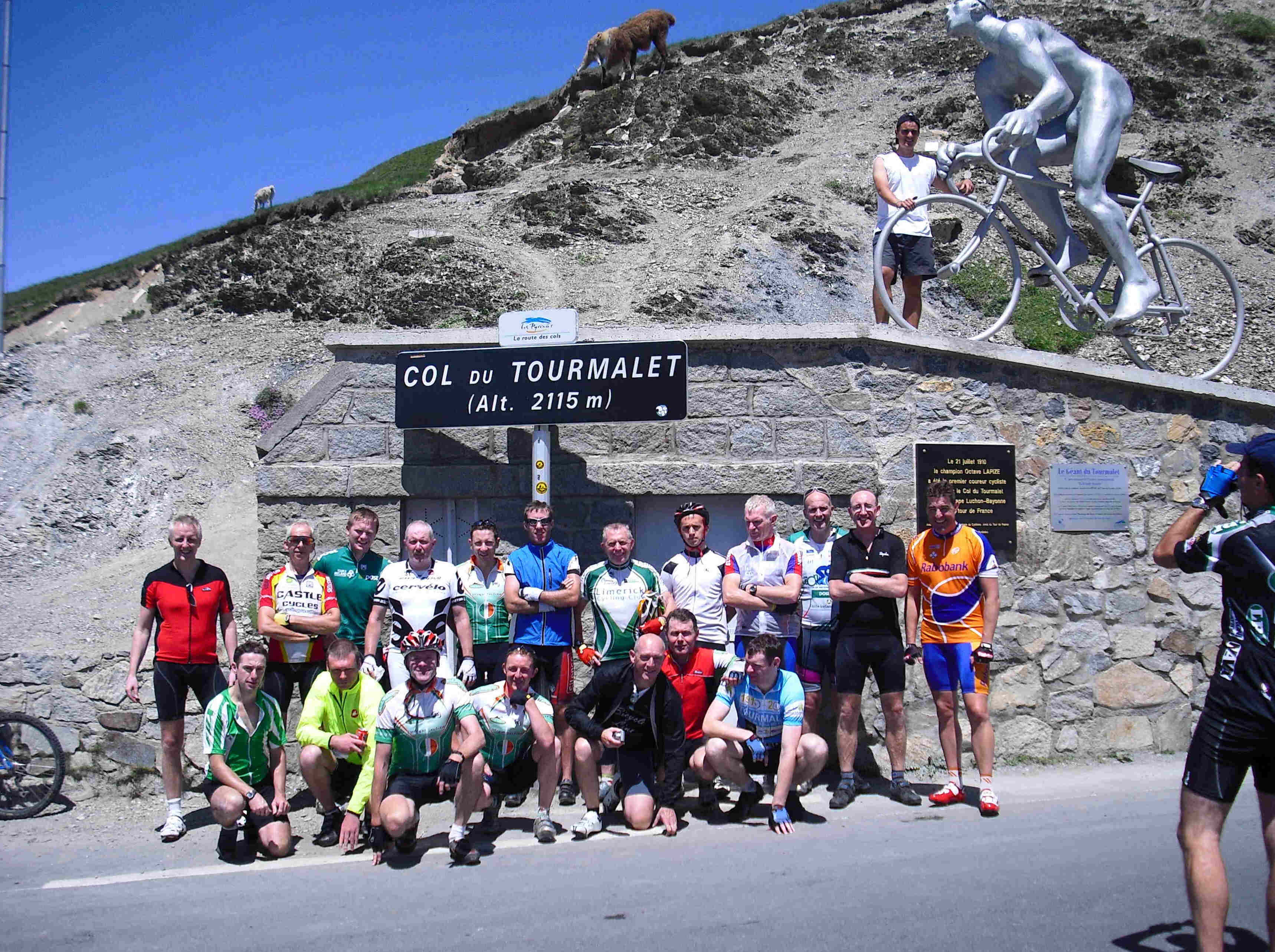 THE Tour the France is the most demanding cycling race in the world and winning it is the most sought after victory of every professional cyclist with the race often being won or lost on one of the etape du tour stages.

Those who like myself were lucky enough to have ridden many of the etape du tours to date will not only fully appreciate how great these warriors on bikes are but are also how fortunate we are to share the experience that these riders had as they fought battles on the famous Alpine, Pyrenean, central massif and other routes ridden over the past 100years .

In the etape du tour cyclists get an opportunity to appreciate how elite the tour riders really are, something those who watch it from the roadside or on TV can never full appreciate.

The etape du tour is an experience of a lifetime for any cyclist.

Up until 2010 for me personally the experience of riding this prestigious event and meeting a guy with only one leg on the first col of the 2007 race was a moment I will always remember . The thought that went through my head as I passed him, patting him on the back (a gesture he acknowledged) was.."What a privilege it was to be biking with a person of such character". Thus if I was to sum up what I like about this race is that... the etape du tour is an event in which cyclists of great character both male and female, of all ages get to bike together on a typical Tour de France stage.....and most of all what a privilege to be able to be one of them.

Above , at the start of last paragraph I said "up until 2010" . I now have to add that the experience I had watching the development of some of our new participants from first meeting them at our Kenmare weekend in April to seeing them cross the finish line at top of col du Tourmalet in 2010 has equaled that feeling I got in 2007 seeing the guy with one leg (no prosthesis) climbing the col de Port. Equaly the performance of our group both on pre etape rides and on the etape of 2010 was amazing .Furthermore the spirit of those who travelled with us to the all the etapes from 2006 and most especially the 2012 etape which has to have been the hardest ever both due to the difficulty of the course and the poor weather on the day was so impressive. Again, I say from my heart what a privilege it is to know and bike with these guys and girls.

Long may we all have good enough health and spirit to do this and other such events.

We have had many individuals both guys and ladies but also couples (seven in 2008) and father/daughter /son in 2009 and again a father and daughter in 2010 and again a father son duo in 2011. I hope some day to join this very fortunate group and share this experience with one of my own children.

Many have been travelling with us since we first started taking groups to the etape in 2006 when we had over 50 take part . In 2008 , 2009 and 2010 we had over 70 travel with us, quite a sight on rides and on start line..

It was particularly pleasing in 2010 to have 100% of our group reach the finish at top of the Col du Tourmalet after a long day in the mountains and again in 2012 to have such a high finish rate on such a difficult day and course .Again in 2013 we had 100% of our group finish.

Our preetape rides in France.... all believe to be most important in the final preperation and hence the high finish rate which is always much higher than the general finish rate.

I have had the pleasure of biking with many over the last few months and look forward to biking with you all again in both Ireland and in France.

E

ach year over 30% of our group is made up of guys who have travelled with us before , some several times. This is a true testiment to their respect for what we do and also the event itself. I have to thank them in particular for being in our group helping to make it special for all due to their presence.

We are presently enquiries for our packages from those who wish join us for a few days biking on our 2015

As is the case every year we expect to have some great stories and personal achivements to salute to again next July.

The route will not be announced until mid October and one can expect it to fill up fast so early booking is advisable.

To find out more information email me at,

or give me a call on 0861041470

TO SEE PHOTOS OF A PREVIOUS ETAPE IN THE PYRENEES . CLICK HERE

Also If you would like to see photos and links to videos from our 2010 trip.

link to photos.

http://www.flickr.com/photos/53601467@N07/sets/72157624974844751/
  





                                 

Link to videos






              http://www.flickr.com/photos/53601467@N07/sets/72157625099883034/ .






Some of the videos were shot by myself as I rode the 2010 etape which finished on top of the Tourmalet.
Already some from past etapes have signed up for 2015. Its a pleasure to have them and we also look forward to many new faces in our group.